Description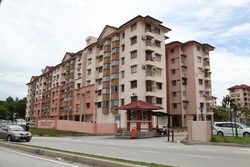 Carmila Apartment is a leasehold medium-cost apartment nestled amongst the many residential developments in Kota Damansara, Petaling Jaya. Residential such as Carlina Apartment, Damansara Emas and Seri Utama are within close proximity.
Carmilla Apartment offers units with built-up size of 800 sf and built with 3 bedrooms and 2 bathrooms. It also provides basic facilities such as parking lots, playground, mini market and 24 hours security to its residents there.
There are many amenities that are located within a 1km radius from Carmilla Apartment. Residents can simply head over to the famous landmark, The Strand which is situated just about a 2 minutes short drive away from the Apartment. The Strand houses an abundance of amenities like banks, restaurants, clinics, convenience store, office lots and retail outlets.
Not forgetting the established Dataran Sunway provides an abundance of amenities ranging from restaurants to car workshops. Grocery shopping can also be an easy task as Giant supermarket, SunSuria Avenue and Carrefour Kota Damansara is within close vicinity to Carmilla Apartment.
Tropicana Medical Centre is the nearest established medical centre located to Carmilla Apartment. There will also be another private hospital which is still under construction that is positioned near Carlina Apartment which is also in close proximity to the apartment.
SK Seksyen 11 Kota Damansara is the closest education institution situated to Carmilla Apartment which is about 750m away from the apartment. There are also quite a number of schools positioned within a 2km radius namely SMK Seksyen 4 Kota Damansara, Sri KDU International School, SK Seksyen 6 Kota Damansara and a few more.
Carmilla Apartment is reachable via Persiaran Mahogani, Persiaran Kenanga, Persiaran Surian and also highways such as Baru Lembah Klang Highway. The Bandar Utama Express Bus Terminal is the nearest mode of public transportation positioned which is about 2.92km away from the apartment.
Property Details
Name: Carmila Apartment
Address: 10, Jalan Sepah Puteri 5/1, 47810, Kota Damansara, Petaling Jaya, Selangor
Type: Apartment
Tenure: Leasehold
of Bedrooms: 3
of Bathrooms: 2
Built-up: 800 sf
Facilities
Parking lots
Playground
Mini market
24 hours security
Analysis
There has been a protest against the development of the Carrefour hypermarket back in year 2007. This is because residents near to the hypermarket feared that the development would lead to more traffic congestion around the already traffic heavy township. There was another protest against the Carrefour development in year 2008 and about 400 residents took part in that protest.
They commented that the traffic is already heavily congested due to the fact that there is a school located just around the neighborhood. Apart from that, they feared that the development would have led to sound pollution near to the development area.
Just early this year, an article on Free Malaysia Today have stated that it is a pain to get around town for Kota Damansara residents even with access to public transportation and this is not just because of the traffic congestion, but also the poor services from the poorly run public transport.
After the hypermarket is completed and under operation now, it seems that Carrefour does not affect the traffic congestion much. The area itself seems to be too congested due to improper ingress and egress roads from Kota Damansara to other areas.
However, property values in Carmilla Apartment have gone up over the years. With developments such as Carrefour Kota Damansara and a new private hospital, the price appreciation will roar further.