Description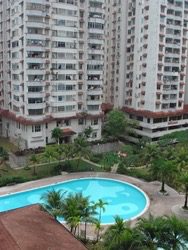 Bukit OUG Condominium in Bukit Jalil is a property that is set quite far back from other developments in the area and in the midst of natural greenery. It allows for the residents to get away from the hustle and bustle of the noisy city life and pollution, but yet is close enough to get to the KL city centre easily. However, there are developments nearby like Taman Esplanad and Mutiara Bukit Jalil.
The architects and landscape designers of the Bukit OUG Condominium worked closely together to create a "village styled" concept whereby most of the emphasis was on open spaces and greenery but residents should be able to find basic necessities within compound. An example of this can be seen with the in-house club cafeteria set amongst areas of landscaped parks and flower gardens.
The condominium of Bukit OUG is strategically located and its neighbourhood includes amenities such as well known hotels, shopping complexes, hypermarkets, restaurants, petrol stations, clubhouses as well as educational institutions. Hotels like the Pearl International Hotel, Boulevard Hotel and The Gardens Hotel can be easily accessed via the major highways that are located close by. Some of the more well-known shopping complexes include Pearl Point, Mid Valley Mega Mall and IOI Mall.
Whereas all grocery shopping needs can be done at well-established hypermarkets like Central, Carrefour and Tesco. To ease the residents' worries of not having enough fuel, the petrol stations of Caltex, Shell and Petronas are nearby, facing the KESAS highway. For residents who would like to indulge in a game of golf or belong to an exclusive club, the Bukit Jalil Golf & Country Club or the OUG Club House would be the place for them.
In addition, within the compound of Bukit OUG Condominium, there can be found Chinese, Indian, Vegetarian and Western restaurants to cater to the different taste buds. Finally, educational institutions are aplenty with residents getting to choose between places such as SMK Taman Yarl, the primary schools of Seri Indah and Seri Suria as well as SJK © Yoke Nam.
Even though Bukit OUG Condominium is located quite deep inside a forestry area, there are 4 different exit and entry points as opposed to previously when residents had to make do with a one-way road. The first point is via Jalan Taman Tan Yew Lai (off the Jalan Puchong main road); the second point is via Jalan PPR Kampung Muhibbah (also off the Jalan Puchong main road); the third point is via KESAS Highway and finally, the fourth point is via the Old Klang Road.
Bukit OUG Condominium is close enough to get to the city centre within 20 minutes. Residents who use the KL-Putrajaya highway (located almost next to the condo and can be accessed via the third point as above) will reach Jalan Bukit Bintang / Jalan Tun Razak / Jalan Raja Chulan with less traffic congestion than normally since only OUG residents have easy access to the highway.
Property Details
Name: Bukit OUG Condominium
Address: Jalan 3A/155, Bukit Jalil, Kuala Lumpur
Type: Condominium
Tenure: Freehold
of Blocks: 14
of Storey: 16
of Units: Approximately 1,700
of Bedrooms: From 1
of Bathrooms: From 1
Built-up: From 775 sf – 1,465 sf
Subsale Price: RM200,000 – RM720,000
Rental: RM700 – RM2,600
Facilities
24 hour security
Launderette
Tennis courts
Children's playground
Men & women's saunas
Multi purpose halls
BBQ pits
Mini markets
Putting greens
Jogging track
Table tennis court
Gymnasium
Swimming & wading pools
Ornamental fish pond
Child care centre
Analysis
Bukit OUG Condominium is a condominium with all the full facilities one would expect and more, such as restaurants and a child care centre. Families and working professional will be able to enjoy an unsurpassed range of leisure activities everyday of the week. It is a peaceful, serene and tranquil place to live in, full of lush greenery everywhere. Fully grown trees line the roads and although the KESAS highway is next to the condo, one rarely notices it because of all the lush trees surrounding it.
In addition, the prices of Bukit OUG Condominium at which the units are either sold or rented are cheaper than many other developments with a similar range of amenities available, including the units themselves which comes with kitchen cabinets, built-in wardrobes in the bedrooms and fully tiled. There are, however, quite a few set backs to this condo. One of them is the high turn-over rate of the Management as it keeps getting changed to different parties over the years ever since its completion. In addition, there have been reported cases of termite attacks on some of the units.
One of the Management's team did spray pesticide for the units which were affected but whether this issue has been resolved completely remains to be seen. There have also been a high influx of foreigners from countries such as the Middle East, Africa and Indonesia which is probably due to the mostly affordable price tags on the units.