Description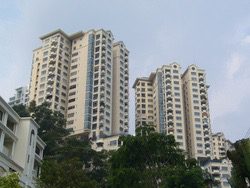 Bayu Angkasa is strategically located on the upper end of Kuala Lumpur. Neatly places on the hill of site of Bukit Bandaraya Bangsar, it makes traveling less of a chore as everything is within minutes. It comprises of 3 blocks that houses 232 units, providing neighbors, friends and passers-by in abundance. Hence, you would always have someone to hit a few squash balls with you and someone to gossip about the latest politics with.
The residents of Bayu Angkasa have no problems getting groceries, looking for leisure spots, banks or whatever else. Moreover, there are parks, fields, eateries, hotels, service apartments, museums, galleries and all that you could imagine located a stone throw's away. Families who opt to stay at Bayu Angkasa need not worry about searching for educational institutes either, as there are primary and secondary schools nearby as well as colleges and universities.
It goes without saying that Bayu Angkasa is well located for the reason that it is in the heart of the city center. Now that lazy Sunday activities and hangout spots have been mentioned, it has to be said that this condominium is suited for bachelors, families, students and single adults. It comprehends all living styles.
Property Details
Name: Bayu Angkasa
Address: Jalan Medang Kapas, Bangsar, 59100 Kuala Lumpur
Developer: Kiara Development
Completion Date: 1999
Type: Condominium
No. of Blocks: 6
No. of Storey: 14
No. of Units: 232
Entrance: North-east
Built-up: 1,590 sf
Layout
Standard (1,163 – 1,600 sf)
Penthouse (3,180 – 3,380 sf)
Facilities
Security
Gymnasium
Playground
Clubhouse
Café
Function hall
Hydro therapy spa
Library
Game room
Swimming pool
Squash court
Tennis court
Sauna and steam room
Mini market
Saloon
Launderette

Analysis
Bayu Angkasa makes living a lot like living at a resort of some kind, as it is fully equipped to fit all types of people. Also, within a five minute walking distance there are various mamaks, dine in restaurants, fast food joints, hawker stalls and so on. Living here is luxurious and makes life a whole lot easier as everything is available within reach. The easy access to the Internet through the wifi and hotspot services also has to be mentioned. If you don't intend to wire up your own connection, there are various hotspots under one roof.
When it comes to moving around, Bayu Angkasa is located only minutes away from the biggest malls and social outlets. There are well "alive" nightlife with pubs and clubs as well as hangout spots, which has become a favorite to teens. This contributes to the massive increase in noise pollution. As the nightlife goes all the way into the early morning, you would be able to hear the occasional pumping music and rowdiness from the intoxicated crowds outside. Even more so during festive seasons.
As Bayu Angkasa is located between Bangsar and Sri Hartamas, festive seasons would come off as irritating. This is mostly because the pace of the nightlife increases causing heavy traffic at 2.00 am. Also, at times the crowds which are highly intoxicated could cause fights and disturbances to the neighborhood. In addition to that, crime rates are slightly higher here as it is known as the "rich man's land".