Description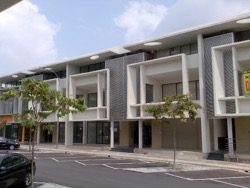 Aked Esplanad is in Bukit Jalil and being one of the newer developments to be completed in recent times, sports a new look and contemporary design which will not look out of place in a modernistic setting.
This development is in the up-and-coming area of the Bukit Jalil suburb, of which the boundaries are demarcated by the National Sports Complex in the east, the Shah Alam Expressway in the north, city boundaries to the west, and the Puchong-Sungai Besi Highway as well as city boundaries to the south.
This block of commercial lots is suitable for all types of business purposes, be it for corporate offices or retail shops. Considering that there are educational institutions such as the primary school of Seri Indah, the primary and secondary schools of Seri Saujana and the International Medical University (IMU) in the vicinity, this further heightens the need for retail shops.
However, since its location is right next to a residential area with the Green Avenue condominium and rows upon rows of houses nearby, not to mention the Anjung Hijau and Vista Komanwel condominiums which are mere minutes away, Aked Esplanad might be put to better use as various retail shops to cater to the burgeoning needs of the residents and other potential visitors.
For public transportation, the Bukit Jalil area is served by the Bukit Jalil LRT station and the Sri Petaling LRT station. In addition, for tenants, patrons and visitors of Aked Esplanad who do not have their own mode of transport, there is the Rapid KL buses of Bukit Jalil, Sri Petaling and Sungai Besi that will enable these people to bypass the stress of procuring transport to the area as well as any traffic jams that generally occur on all major highways during the peak periods.
Tenants, patrons ad visitors of the Aked Esplanad will have easy access to the development via the Kesas Highway, the Damansara-Puchong Expressway (LDP), the KL-Seremban Highway, the Maju Expressway (MEX, formerly the Kuala Lumpur-Putrajaya Expressway) as well as the Federal Highway. Via the MEX, it takes 10 minutes to get to Jalan Imbi in Kuala Lumpur, 15 minutes to Jalan Tun Razak / Jalan Ampang and another 15 minutes to Putrajaya.
Via the Kesas Highway, it takes 10 minutes to get to Sunway, 20 minutes to Shah Alam and another 10 minutes to reach Puchong. Finally, one will only need 5 minutes of driving time to arrive at either Sri Petaling, Old Klang Road, Seri Kembangan or Sungai Besi via the other highways.
Property Details
Name: Aked Esplanad
Address: Jalan Jalil Perkasa 14, Aked Esplanad, Bukit Jalil, Kuala Lumpur
Type: Commercial
Tenure: Freehold
of Storey: 2.5
of Units: 66
Launch Price: From RM900,000
Subsale Price: RM1,680,000 – RM4,000,000
Rental: RM2,200 – RM6,500
Facilities
Business centre
Cafeteria
Club house
Covered parking
Mini market
Salon
Analysis
With a location that is bordering on the Shah Alam Highway and the toll plaza, its hard to miss the building with the clean lines and modern look that is Aked Esplanad. Being quite new, as it was developed only in the past 5 years, it shows a lot of potential for further growth into a more established development where plenty of visitors and patrons will grace the premises. In addition, people from other residential areas such as Overseas Union Garden (OUG), Taman Sri Petaling and Bandar Kinrara will be able to pop by with ease once the area is more settled.
However, with a place that has access to and can be accessed by so many major highways also has its cons. One such setback which is well known to many, if not all, Malaysians would be the traffic snarls that are almost an inevitable occurrence on a daily basis around peak periods which are during the early mornings and late evenings of weekdays. This would be when commuters will be regularly going to and from work; people who work at Aked Esplanad or would like to visit it will encounter difficulties getting there during that period.